Final Frontier Media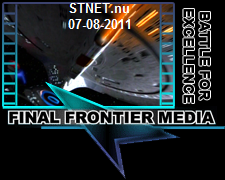 Hereby I send you the Final Frontier Media Award – Battle for Excellence for your website. I've visited your website several times the past few weeks. Based at everything I've seen you get this award.
Positive:
Sublime design
Lots of Content
Original Content (mini-sites; Voyager 95; ST Online)
Great Ambiance
"negative":
About page does crazy things when scrolling
Location of content in menu
Small typo's
Battle for Excellence is all about having the perfect website. Not just be good at one thing, but everything must be of top quality. I know STNET now for several years and nothing is done quickly. You can clearly see the overall quality of your website. There are only a few of this remarkable websites left on the internet. Be proud of it.
All together it's a wonderful website and belongs to the top of Star Trek Websites. I hope you can appreciate my comments. Enjoy the award. Keep on the good work.