Starbase Adran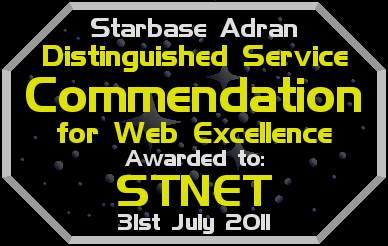 I am pleased to be able to report that your site STNET has been awarded the Starbase Adran Commendation for July 2011. Congratulations and very well done for creating such an interesting site. The review team were very impressed by both the quality and layout.
Our review team conducted a review of your site during the last two week of July, and you were awarded the following score:
Layout and Design: 15
Content: 19
Originality: 19
Navigation: 20
Personal Opinion: 20
Total score: 93 out of 100
The second highest review score last month was 85, which was awarded to 8 of 5.